Help With Your Money Talk
I recently had the opportunity to chat with Lori R. Sackler, author of The M Word – The Money Talk every family needs to have about wealth and their financial future.
When her book was first published in 2013, I reviewed it for you. Based on feedback she received since then, she has added a second book – The M Word Journal. In addition she has just completed revisions to the original book which will soon be available for purchase.
Her publicist, Noelle Brown contacted me to see if I wanted to interview M. Sackler – and provided a copy of The M Word as well as The M Word Journal. Thanks Noelle!
I took the opportunity, not only to learn more about the new Journal, but also to explore her experience in working with families who have met to talk about money, finances, estate planning and etc.
As a recap, she is a Financial Advisor and Senior Vice President at Morgan Stanley Wealth Management.
In The M Word first edition Sackler dives into several of life's transition points in great detail. Changes in financial circumstances; remarriage and merging families; retirement planning; caring for an elderly parent; preparing heirs, estate transfers, and business successions are some of the ones she explored.
A key part of the book is the explanation of the multitude of factors that can influence the money discussion. Each of us have many differences that lead to differing approaches and attitudes towards money.
Her five step plan to have the M talk is to 1) determine what transition you are addressing 2) Prepare the 'inner' landscape – all of those many factors that affect our thoughts, actions and words about money 3) Prepare the outer landscape (the actual meeting, your goals and etc) 4) Ask for Help and finally 5) Repeat as often as needed.
Now, in the M Word Journal, M. Sackler gives the reader a workbook to help prepare for and get into each one of five life transition points including 1) changes in financial circumstances, 2) remarriage and merging families, 3) retirement planning, 4) caring for an elderly parent and 5) preparing heirs and estate transfer.
For each transition point, the reader is asked to complete the 5 steps in detail (gather information & prep for the issues and topics; think about your family and what will be difficult in having the talk; plan out how you will accomplish the money talk; think about what (if any) help you need to have the talk and create a process that you can use in the future for additional talks.
For each step, M. Sackler has prepared questions, templates and suggestions for you to use – with spaces for you to write down information.
The Journal is meant to be used as a supplement to The M Word book. You pick the transition point about which you need to talk and go to that part of the Journal. The Journal will point you to specific areas of the book for additional guidance.
After refreshing my memory of the book and reading through the Journal, I had the following questions.
At what levels of net worth do you typically see families doing a money talk?
She (as noted in the M Word book) said that it could be any level of net worth, mainly depending on how important it is to the family to have the talk.
How frequently do you see the same family doing one?
According to M. Sackler, wealthier families tend to do recurring meetings – creating a culture of talking about money and doing planning.
Less wealthy families tend to do them when they hit one of the transition points she identified.
Has your family had multi generational money discussions – involving your or your spouses parents? What was the purpose and what special preparations were made? How did the meeting go?
She mediated sessions for her family to deal with her mother in laws situation and experienced the results of her Mother passing without discussions. She has also experienced meetings with her millennial aged children, both on an individual basis, a family basis and as ongoing conversations. She is about to become a mother-in-law and foresees some new challenges when bringing the spouse of a grown child into the family money conversations.
We briefly chatted about my own experience with including spouses of grown children in family financial discussions.
How long do meetings typically last? How long should they last?
She thought it was good to keep the meetings an hour or under and have multiple meetings if needed to get through all the talking points.
As a side note, my family found it difficult to explore money personalities in under an hour. We did this as our first meeting to try to get a better understanding of what each family unit was experiencing.
Should parents of grown children expect that the children discuss their own money situations in addition to the elder generations money situation?
Lori hesitated on this one a bit – I clarified to say that it seemed like my spouse and I (as the elder generation) did more of the sharing than the other family units.
She thought one of the reasons might be that the other family units might be at a stage of life where they didn't really have much to share as yet – that they were still trying to get it together financially.
How do you recommend folks use the Journal? Should they read the chapter in the book first?
I stated that it looked like folks should use the journal for a specific situation, then refer back to the M Word book. She agreed.
She has not had any feedback as yet on actually using the Journal to plan/organize/hold a meeting. She has had a lot of feed back from all across the country on the M Word however. One man (an engineer) used the process described in the Journal. He sent an email to Lori with his agenda, then emailed her with the results of the meeting.
She had gotten feedback on the M Word that a more interactive guide would be beneficial.
She also volunteered that the best response to the book is from women – perhaps due to the biological and psychological differences between men and women.
Why a separate book and not just a revised M word that includes the questions and sheets?
She thought it would make the M Word too long if included and thought that the younger folks would be more interested if it was a separate book.
How do you feel about the number of copies sold of the M Word book?
Although it is not a best seller, she feels she hit a niche and she is getting good feedback. She stated that the Journal has sold out on Amazon of its first printing.
She recently completed updates to the M Word, which are currently still with the Publisher (McGraw Hill) but the revised version will be available within around 30 days. She revised it due to changing conditions and laws to keep it current. She estimated that she revised 10 – 15% of the content.
What role did Morgan Stanley play in the creation of the book?
Because she works as a broker under their employ, the had a team providing oversight and approval. However, all of the content was hers (Morgan Stanley disclaims responsibility for any content) and she was responsible for getting editors, publishers and marketing all by herself.
Can readers contact you directly with questions or feedback?
Yes, here is the contact information:  Lori R Sackler  201-967-6267  lori.r.sackler@morganstanly.com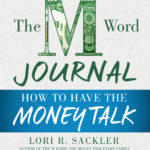 The M Word and The M Word Journal have their own website – http://themword.com/