Advantages of a Family Business – Weyerhaeuser
Frederick Weyerhaeuser founded a family business that has laste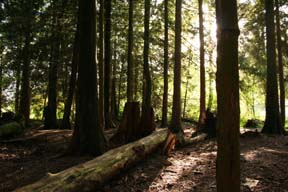 d for generations. At 18 years old, in 1852, he emigrated from Germany to the US. By the mid 1800's he was in business with a partner and by 1900 Weyerhaeuser and partners had purchased 900,000 acres of forestland in
the Pacific Northwest.
The Weyerhaeuser company today (per the company website ) continues:
"We grow trees and make forest products that improve lives in fundamental ways. Our wood products are used to build homes, where families are sheltered and raised. Our cellulose fibers are used to make diapers and other hygiene products that keep people clean and healthy. We innovate to use trees in products you may not expect, such as fabric, plastics and energy. We do these things because growing a truly great company isn't just about great financial results or being a great place to work, it's also about making a great contribution to society."
The company was led and run by family members up until 1960, when the first outside president took over. In 1963, the company officially went public, and was listed on the New York and Pacific Stock Exchanges. According to Encyclopedia, however, the family continued to play a leading role in the company until 1999 when George Weyerhaeuser retired as chairman and was replaced by an outsider.
As noted by Mark Haynes Daniell in Strategy for the Wealthy Family, Seven Principles to Assure Riches to Riches Across Generations, Weyerhaeuser is an outstanding example of a successful American multi-generational family business.
The current generation of Weyerhaeuser descendants still get together and according to Forbes:
"Many of the 250 (estimated) descendants live around Washington and Minnesota and still meet up for regular reunions. Frederick's great-great-grandson Bill Driscoll unsuccessfully made a bid for Congress in 2012. The Republican newcomer bankrolled his campaign with a $500,000 nest egg."
Forbes estimated that the descendants collectively are worth 1.7 billion dollars which put them in position # 130 on the America's Richest Families list in July 2014.
This family, while exceptional, demonstrated many of the advantages Daniell lists when discussing the benefits of a family business.
What are these advantages and how has Weyerhaeuser demonstrated them?
Long term view and commitment.
Family members in the 5th generation are still inspired to work for the company, even though it is run and owned by outsiders today. Bill Driscoll, a great, great grandson of founder Frederick Weyerhaeuser, has spent much of his career working for the timber company.
Greater preparation time for succession.
Multiple generations of Weyerhaeuser's have led and worked for the company, starting with the founders sons. The biography of Frederick Weyerhaeuser  on access geneology explains that:
"Mr. Weyerhaeuser has also had the invaluable assistance of late years of his four sons, all born and bred in the lumber business. When the character of these lieutenants in charge of the outposts and animated by the same loyalty to the Weyerhaeuser interests that has inspired their founder is considered, the credit for a large share of recent success is apparent."
The book American Lumbermen : the personal history and public and bus, Volume 2 expands on these comments:
"While Frederick Weyerhaeuser, the head of what is termed the Weyerhaeuser interests, has carved out for himself an enviable niche in the commercial world, he has also proved his ability to develop the talents of his children. He is the father of four capable, conservative men of affairs, who inherit a part of their father's ability, and are endowed with distinct personalities and individualities.
It is scarcely just to attribute all of the more recent developments, particularly those of the last decade, to the founder of this great business. Each of the four sons has taken a creditable part in the expansion of the general interests, though the efforts have been of a mutually cooperative character, making it difficult to single out what each individual has done. They have been called upon to assist in the general work. In this they have been placed on a footing of equality with each other as able lieutenants, all of whom, when occasion demands, are pressed into service at the point where their experience and ability will aid in solving whatever tangle may have arisen."
Examples of that initial training and individual diversification are reflected in Forest
History  which describes some of the family training and tradition.
In the second generation:
"Charles Augustus Weyerhaeuser was born on 2 April 1866 to parents Frederick (1834-1914) and Sarah Weyerhaeuser. Charles apprenticed at various jobs within the family timber business before taking over managem
ent of the Pine Tree Lumber Company in Little Falls, Minnesota…"
In the third generation:
"Charles and Mauds's daughter, Sarah Maud, married Walter S. Rosenberry, Jr., on 20 June 1930. The Weyerhaeuser family embraced Sarah Maud's new husband and brought Rosenberry into the family business."
A more sophisticated appetite for risk.
Throughout its history, the company has leaped at opportunity, entering war efforts in WWI, entering the packaging business and going international in the 1950s, trying out the home building arena in the 1960's, entering the real estate business and disposable diaper business in the 1970s.
Higher degrees of speed and flexibility.
From snatching up land deals to changing with the changing face of the times, the company has shown its ability to respond and anticipate.
The Washington State free history site  notes some of these.
"In 1941, industry executives joined John P. Weyerhaeuser Jr., company vice president, and Governor Arthur Langlie in dedicating the nation's first tree farm, on the Clemons tract near Montesano.
Under George H. Weyerhaeuser (Frederick's great-grandson), who became company president in 1966, "high-yield forestry" became the company's guiding principle. This involved large-scale clearcutting, draining of wetlands, and use of chemical herbicides, fungicides, and fertilizers to increase tree growth and shorten "rotation" times.
The company also began expanding into the manufacture of such new forest products as ply-veneer, hardboard, particleboard, and processed wood bark. It opened three kraft-pulp mills for the production of grocery bags and multi-
wall sacks for pet food, lawn and garden seed, and other products. Over the years, mergers have added packaging and paper manufacturing mills. Today (2004), Weyerhaeuser's diversified business interests include plant nurseries, food and chemical products, real estate development, and mortgage and insurance companies."
Personal nature of corporate and social responsibility.
The family today expresses its corporate and social responsibility through their family foundation. The Weyerhaeuser Family Foundation, Inc. was formed on January 24, 1950, incorporated under the provisions of the Minnesota Nonprofit Corporation Act. The Weyerhaeuser Family Foundation, Inc. is supported and governed by members of the Weyerhaeuser Family. The Foundation is not affiliated with the Weyerhaeuser Company Foundation. It supports three initiatives: an International Initiative, a Children's Initiative and a Sustainable Forest and Communities Initiative.
Natural diversification through family members.
As shown in prior sections of this article, the natural and intentionally developed tale
nts of multiple family members were utilized to move the company forward through good times and bad.
Higher degree of confidentiality and discretion and enduring commitment.
While I can't speak to the confidentiality or discretion, members and company personnel have demonstrated enduring commitment as evidenced by this statement from the Weyerhaeuser In Brief: 
"Our current approach combines the economic benefits of High Yield Forestry with protection of wildlife habitat, water quality and other forest values. Over the past five decades, we've continued to expand operations worldwide, each step moving us toward our goal of being the global leader in forest products."