2014 Grandma Rie's Money Camp Activities and Resources
Teaching the next generation to successfully handle money and personal finances is normally a family responsibility. Although parents bear much of the burden to teach, train and model good personal finance, extended family members can also contribute.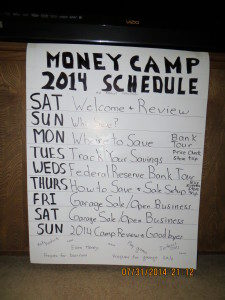 Although my grown children do very well in the personal finance arena, they learned from us by osmosis, without any special or formal training by my spouse or I. When they presented me with grandchildren, I vowed that I would take an active part in teaching financial literacy to them.
As a result, I started a one week 'Grandma Rie's Money Camp' in 2011 and held our fourth annual one this year.
The focus of this years Money Camp was on saving. To zero in on that, we toured a bank, a credit union and the Federal Reserve's Money Museum, as well as inspecting our home safe and our safe deposit box at the credit union. In addition I asked several family members to record a story about a time they had saved for something or wish they had. In order to put the focus on saving and provide these activities, I moved the location of Money Camp from the lakeside condo to our metro area. To have money to save, you have to get or earn money. This year, I combined camp with a garage sale and had the kids run their kid business during the sale. Some days I question my sanity – running a week long camp, entertaining kids and preparing for a garage sale called for some stamina I didn't know I still had!
Since our family has been working on defining our family values, I started introducing that concept this year with camp – listing one of our family's values and tying it to camp. The one I chose was "Our family members pursue independence and self-sufficiency". I hope to expand on these values messages in camps to come.
Following is a list of the activities we pursued together this year in camp. These camp directly from the camp schedule I developed and followed this year. Further down in this post you will find a list of resources I used.
You can read about the 3 weeks worth of preparation I did for camp in this post.
Activities.
Welcome and camp opening on day one.
I kicked off camp with a specific set of things to cover with the parents and kids – including going over the posters and the movie showing prior years camps I had created .
Financial concept review with whole family.
I used an Open Office slide show that I made to review concepts taught in prior years with questions and then answers and invited everyone in the room (parents, Grandpa and the kids) to join.
Interest jars (simple and compound).
I introduced a compound interest jar in past year camps. The money builds all week and at the end of the week the kids get to split the pot and keep it. This year, to demonstrate how much more money you get with compound interest, as opposed to simple interest, we added another jar – a simple interest jar.
The 7 year old was in charge of figuring out and adding (from money I supplied) the interest each day for the simple interest jar. The 10 year old was in charge of figuring out and adding (again from my money supply) the compound interest. Each of them kept track of the starting amount, current value in the jar and the interest added each day.
At the end of camp, they split the compound interest jar money between the two of them and I kept the simple interest (I had required them to choose which they would split at the start of camp).
Demonstration of the power of saving/interest earning.
I've been hammering away at showing them the time power of money and the value of letting their money grow through interest. This year we tried doing so in yet another way – using a checkerboard and lots of pennies. You can read about it in my post Teach Your Kids the Power of the Time Value of Money.
Practice writing out a check.
One of the activities we did was a lesson plan based on the book Berenstain Bears Dollars and Cents – which I read aloud to them. The book had pretend checks in it. After we read the book and talked about it using the lesson plan, I had them fill out a check for one dollar, then cashed it for them.
Lets pretend – You are Grown Up game.
I wanted to find a way to demonstrate that money goes out the door pretty fast in a typical house hold, so I made up a pretend game – where they had the salary of a recent college graduate and typical household expenses to pay. The goal was to lead into demonstrating the need for household budgeting. Read about it in my post A Lets Pretend Game to Help Teach Your Grade Schooler to Manage Money.
Make products to sell in their kid business.
Each year we plan a kid business for them to run during part of camp. The first year, they just bought stuff (snacks and drinks) to sell (using my money). Last year, they made soaps and sold them. This year we again made products to sell, including more soaps, cookies, and piggy banks (see A Banking Project for you and your Kids for more on the piggy banks).
Home safe exploration to see what we store in it.
Several years ago, we bought a used home safe at an estate sale. It is fireproof, so we use it mainly as a firebox for some of our precious things (marriage license, pictures, collections, other papers, etc). I let the kids explore on their own what was in the safe, talking about why we stored the things we do and pointing back to Richie Rich's family vault where they stored family mementos instead of money.
Tour of my bank and credit union, explaining the various functions, demonstrating money withdrawal and letting them look through our safe deposit box.
Today's parents typically don't actually go into a bank in person – doing most banking online. I wanted the kids to see the inside and hear a bit about what goes on in there so I took them to a couple of our banks and asked the employees to do a little tour. I did one of the tours (and think I did a better job than the bank personnel). I was very surprised when the kids had to print their names on the safe deposit box signature cards!
Listen to family member stories about saving and then answer questions about what they heard.
Our family believes that saving is important and leads to financial independence (one of our family money values) and I thought hearing stories from their Mom, Dad and grandparents would help reinforce the importance we place on it. Family members shared stories in video or written format so now the kids will have those for future reference as well.
Earn money by doing jobs around the house.
For the past several years, I have tried to show the kids that they can be entrepreneurs and have their own business. Up until this year, I acted as their venture capitalist – providing up front funds for them to use to buy their supplies. The first year they got to keep all the profits, last year, they had to pay me back from their profits. This year, they had to earn the money during camp to buy their supplies.
Brainstorm supplies their kid business would need – using the glass in a door and dry erase markers.
After we read The Monster Money Book, which introduced the idea of a budget, we leapfrogged the concept into their kid business, writing up a list to take to the store of things they might want to sell.
Store trip (Walmart) to check on prices for the above supplies.
I've learned that prior to all trips out of the camp location should be preceded with an expectations discussion – here is what we are doing, here is how we should behave.
Play the  Net Worth the card game and introduce the concept of what net worth is in a fun way.
This is an easy game, very similar to Crazy Eights – that helps you introduce the concept and lingo of net worth.
Prepare for the garage sale (set prices, blow up balloons, set up flag streamers and signs and etc).
Although I paid for some jobs, setting up for the sales was a not for pay activity.
Visit the Money Museum at the local Federal Reserve Bank.
Although not strictly about saving, the tour was interesting and fun for both kids and adults. They got to lift a gold bar, design their own money, watch workers sort and store bills and much more.
Make a (simple) business plan.
We made a plan for their kid business on the glass patio door with dry erase marker – here is what they will sell, here are how many they have to sell, what will they charge, what is the potential profit, how much did/will it cost to produce those things to sell?
To do this, each kid got to use a calculator to help figure out total potential sales and total expenses. The 10 year old is a numbers guy so he really got into it. I'm hoping the 7 year old will in the next few years.
Then we went back to the store and let them buy the needed items, using the money they had earned in camp.
From the plan, they knew how much money they needed to bring and they only took that much. We had their supplies rung up separately and the cashier was kind enough to accept money from each of them to cover the total cost of the supplies (they split the expense and the profit down the middle).
Set up the garage sale and run the kid business.
They hawked and sold their own stuff, made their own change, set up their own area and etc.
Review this years camp using pictures on the TV screen.
As we enjoyed camp this year, I snapped action shots of some of the various excursions and activities, then loaded them to my PC, hooked the PC to the TV and used the pictures to review what we had done and learned in camp – mainly for the kids, but also for the parents who were present.
Resources used.
Posters
Poster to walk through 2014 schedule
Poster listing camp behavior expectations and house rules
Poster listing our family value and what it means to them
Movies/Videos
Home made movie (Windows movie maker) showing and telling about prior year camps
Secret Millionaires Club DVD
How Banks Work – a cute You Tube video with someone sketching while explaining how a bank works.
How the Federal Reserve Banks work – a You Tube video
Seabiscuit DVD – with discussion on the concept of risk taking
Secretariat DVD – with discussion of the Great Depression
Slideshows
Open Office home made slide show with review of concepts taught prior years
Slide show of one family member's savings story (others were videos) made from a written version
Games
Net worth card game
Checkerboard and a bunch of pennies
I also had several money related board games and online games in my back pocket in case needed (Monopoly, Cash Flow, Billionaire for example.
Books
Several books were used with planned activities – especially those that had corresponding lesson plans. Others were read right before bedtime as part of their normal bedtime routine.
We used the below books this year:
If you Made a Million
Bernstain Bears Dollars and Cents
A Chair for my Mother
Mr. Pompety Pompton and the Magic of Compound Interest
The Millionaire Kid's Club – Garage Sale Riches
How the Second Grade Got $8,205.50 to Visit the Statue of Liberty
The Monster Money Book
Rock, Brock and the Savings Shock
The Best Yard Sale
The Yard Sale
Lesson plans
In the past few years, lesson plans for teaching kids about money have multiplied on the web – to go along with the personal finance standards being proposed by schools and by Jumpstart.org.
Here are the ones I studied and from which I drew portions to use in camp:
Lesson plan Savings Accounts and Interest from takechargeamerica.org  to go along with reading Berenstain Bears Dollars and Cents.
Lesson plan Keeping Track of our Money  (also from Take Charge America) to go along with reading How the Second Grade Got $8,205.50 to Visit the Statue of Liberty.
Lesson plan Comparison Shopping to go along with reading The Monster Money Book.
Supplies I needed for camp.
Poster board & permanent markers.
Computer and software to create slide shows and videos.
HDMI connection to TV to display pictures, homemade and YouTube videos, slideshows.
Camp completion paper award certificate made from free templates and printed at home.
Digital camera to take pictures during camp.