Teach Your Kids the Power of the Time Value of Money
Grandma Rie's Money Camp was last week – it was another week of fun, learning and activities about personal finance .
One of the activities we did this year explored the concept of the time value of money. The grandkids are 10 and 7 this year – old enough to know how to save up for something but still really too young to 'get' the concept of compounding growth (although the 10 year old seemed to understand at the end of this years camp!!).
A penny doubled every day for 30 days.
Before starting the activity, I asked each of them which they would rather have – a penny doubled every day for 30 days or a million dollars. Of course they wanted the million dollars. Even one of the parents wanted the million.
I announced that I wanted the penny doubled because it would end up being way more money. The kids didn't believe me, one of the parents expressed doubt and the other seemed a bit unsure as well.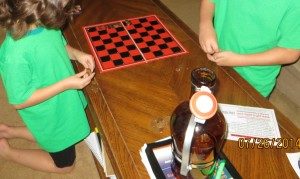 The activity we did required a bunch of pennies and a checkerboard. The youngest child was asked to put a penny on a corner square, then put two pennies on the square next to it, and so on until there were too many pennies to fit easily on the square. The older child then took over, helping figure out what the doubled number of pennies should be and helping to stack them. We doubled, counted and stacked until the kids grew tired of stacking – way before we reached 30 squares.
Although this activity was interesting to the kids and demonstrated the power of growth by adding to savings fairly dramatically, it still did not convince the 10 year old (or the Mom!) that a penny doubled every day would be way more than a million dollars.
So, here is the math to prove it – for any of you out there that may doubt the power of the time value of savings.
| | | | |
| --- | --- | --- | --- |
| Day # | Amt | Multiplier | Amt Doubled |
| 0 | $0.01 | X 2 = | $0.02 |
| 1 | $0.02 | X 2 = | $0.04 |
| 2 | $0.04 | X 2 = | $0.08 |
| 3 | $0.08 | X 2 = | $0.16 |
| 4 | $0.16 | X 2 = | $0.32 |
| 5 | $0.32 | X 2 = | $0.64 |
| 6 | $0.64 | X 2 = | $1.28 |
| 7 | $1.28 | X 2 = | $2.56 |
| 8 | $2.56 | X 2 = | $5.12 |
| 9 | $5.12 | X 2 = | $10.24 |
| 10 | $10.24 | X 2 = | $20.48 |
| 11 | $20.48 | X 2 = | $40.96 |
| 12 | $40.96 | X 2 = | $81.92 |
| 13 | $81.92 | X 2 = | $163.84 |
| 14 | $163.84 | X 2 = | $327.68 |
| 15 | $327.68 | X 2 = | $655.36 |
| 16 | $655.36 | X 2 = | $1,310.72 |
| 17 | $1,310.72 | X 2 = | $2,621.44 |
| 18 | $2,621.44 | X 2 = | $5,242.88 |
| 19 | $5,242.88 | X 2 = | $10,485.76 |
| 20 | $10,485.76 | X 2 = | $20,971.52 |
| 21 | $20,971.52 | X 2 = | $41,943.04 |
| 22 | $41,943.04 | X 2 = | $83,886.08 |
| 23 | $83,886.08 | X 2 = | $167,772.16 |
| 24 | $167,772.16 | X 2 = | $335,544.32 |
| 25 | $335,544.32 | X 2 = | $671,088.64 |
| 26 | $671,088.64 | X 2 = | $1,342,177.28 |
| 27 | $1,342,177.28 | X 2 = | $2,684,354.56 |
| 28 | $2,684,354.56 | X 2 = | $5,368,709.12 |
| 29 | $5,368,709.12 | X 2 = | $10,737,418.24 |
| 30 | $10,737,418.24 | | |