Junior Achievement Still Teaches Financial Literacy
Teaching kids about money and finances is becoming much more mainstream today than it used to be. Public schools are offering personal finance classes. Numerous websites advocate for financial literacy and various institutions and organizations are drawing up financial literacy standards by grade level.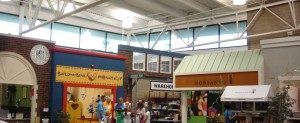 But there is one old standby that has been in the game for years – Junior Achievement. It has been around since 1919, fostering youth experiences in financial literacy, work readiness and entrepreneurship.
I was never involved in JA as a youth. I wasn't even aware of it's existence. Consequently, I didn't think to enroll my boys in any of their programs and apparently their schools didn't push it either as I didn't receive any information about available programs while the boys were growing up.
Last year, I was excited to discover that JA has summer camps in the city in which my grandchildren live. I'm trying to help my kids teach their kids about finances, trying to do better with my grandkids than I did with my own boys. My grandson is 8 and just finished third grade, so he was eligible to attend the JA Biz Wizards summer camp. I successfully lobbied with his parents to let me enroll him, pay and haul him back and forth to camp each day way back in January. These camps fill up fast so I wanted to be sure and get him enrolled early.
Junior Achievement Summer Camps.
Junior Achievement in some locations has three summer camps.
One is called Biz Wizards – for children who have completed the 2rd grade and who are 8 – 9 years old. In it the kids learn about trading, earning, spending, saving, producing goods and services and about profit.
The second is called Biz Town, for kids ages 10 – 12. It goes more in depth on doing business; diving into making a product, banking, jobs and careers, and actually working a job.
The third, called Young Entrepreneurs is for kids ages 11 – 13. It is focused (not surprisingly) on entrepreneurship.
Although my grandson was enrolled in the Biz Wizards program, they did many of the the things included in the Biz Town program.
Realistic environment.
The facility was in a major metropolitan city. The large main room is ringed with 'businesses' which are actually built physically into the space. There is a radio station, a TV station, a city hall, a Bank of America, a Bild-a-Bear store, a market, a warehouse and many more buildings including several local businesses and institutions. The structures are very realistic looking and scaled to kid size!
Fun program.
The program is structured to provide learning experiences and opportunities mixed with fun activities and games. Starting day one, the kids learned about saving, spending and giving. They found out what debit and credit cards really are (hint, not money) and that a check can be written to draw funds from a bank account. They opened their own Biz Wiz bank account and made deposits to it and withdrawals from it. They traded for things and earned prizes.
From the second day forward, the counselors started priming the pump for the last big day when the kids would actually take on a job and perform activities related to it in a company. They taught the kids how to get a bank loan for the business, and how to figure out if the business they worked in made a profit.
The kids had to apply for up to three jobs from a pre-defined universe of jobs that included things like CFO of a company, mayor of Biz Town, radio disc jockey, TV announcer, pediatric nurse practitioner and IRS agent. They had to wait in suspense to find out which job they landed and then had to learn how to perform it.
The last half hour of the camp, the mayor introduced each company CFO, who gave a little speech to indicate how their company did (whether they earned a profit or not). Then each and every camper got to come up in front of the crowd of parents and grand parents to tell what they learned in camp – speaking into a microphone. Many indicated that they learned how to write a check or what a debit card is or told why they liked the job they landed.
After camp.
I was pleased that my 8 year old grandson seemed to really enjoy the camp. I was more than pleased when Mom reported that he was talking to her (correctly) about opportunity cost in his personal life!
After camp, I found out that my daughter-in-law had attended something very similar during the school year – something called Exchange City. I also learned, after 41 years of marriage, that my spouse had attended Junior Achievement when he was in the 4th grade!!!! How did I get left out….??
Did you attend any Junior Achievement programs? Which were the best in your opinion?