Put a Stay at Old Faithful Inn on Your Bucket List!
A Journey to Old Faithful Inn
National parks allow visitors to view the grandeur of nature and witness first hand wildlife creatures that they otherwise might never observe. Most national parks are off the beaten track, with few choices for nearby lodging. When the first parks were new, in the nineteenth century, the railroads sponsored the building of many now historic lodges, so that they could sell tickets to the park entrances.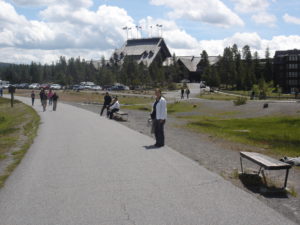 One such lodge is Old Faithful Inn in Yellowstone National Park.
We recently visited this grand old inn for the second time and fell in love with it all over again.
Sitting beside the Old Faithful geyser – which still erupts somewhat faithfully every 90 minutes, this lodge pole pine log structure soars up 7 stories to a gabled roof shingled in shake. The massive porte-cochere (covered porch) protects the visitor as he walks up to the impressive double red doors (constructed of large planks with wrought iron hinges and a lock forged on-site by a blacksmith) to the entrance of the lobby.
Upon entering, most people find that their eyes are drawn up, and up and up. The lobby is 7 stories high – and climbs 92 feet up. Around the lobby are two levels of balconies, also constructed of log framing.
A massive four sided stone fireplace and chimney runs all the way up the lobby. The furniture in the lobby is period correct or original – Mission furniture, setees, rockers and various types of chairs are scattered for use in conversational groupings throughout the lobby area and in front of the fireplace.
There is a gift shop, snack shop, dining room, bar, public restrooms, bell hop and mail services among other things in the lobby alone. The balconies hold a coffee shop, a bar (handy to the open second story deck facing Old Faithful geyser with viewing benches and picnic tables) and an area for the musicians which hold court during high season to entertain visitors after dinner.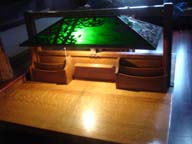 There are quaint double sided desks with period correct lighting in the middle – so you can write to the folks back home about the wonders you are seeing.
History of the Inn
The Inn was built during three sessions. The Old House was built in 1903 and includes the lobby area as well as guest rooms. Two wings for additional guest rooms were added later. The Inn has had its guts (plumbing, safety, etc) modernized along the way in several installments without destroying, or very much altering the grand unique and rustic character that has often been used as inspiration for other buildings.
Architect, Robert Reamer, then 29 years old, designed the structure as well as the additions (he also did some work at another iconic park lodge – Lake Yellowstone Hotel). He was hired by the railroad (The Northern Pacific Railroad and its former subsidiary the Yellowstone Park Association), which asked that he use as many natural resources available in the park as possible. With the consent of the US Department of Interior that is exactly what he did.
Impressions & quirks
Even if you don't get to stay in the Inn, if you visit Yellowstone, take the inn tour. Old
Faithful geyser is just 45 feet from the Inn, so you will be in the area! The inn tour is conducted by an Xanterra employee or park volunteer and gives an excellent history oration as well as pointing out specific details that visitors might not otherwise observe, such as the crow's nest (no longer open to the public) where the band used to play for early twentieth century lobby dancers and taking you into one of the guest rooms in the Old House part of the Inn.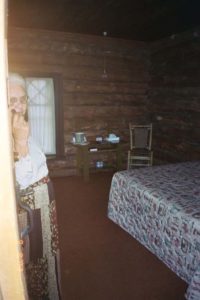 We stayed in an Old House second story room this time. It was one room away from the lobby. There were two queen beds, an antique dresser and two night stands, rough hewn wood paneling on the walls and a really cute wash stand with hot and cold running water

You will notice, no bath or toilet. The Old House rooms, for the most part do not have private baths. Instead, there are public bathrooms on each wing and on each level. I was leery of not having our own bathroom, since we, like most of you, are certainly used to having multiple private baths in our homes. I get up a lot at night so I thought it would be a pain. In a way it was, but it was also kind of neat.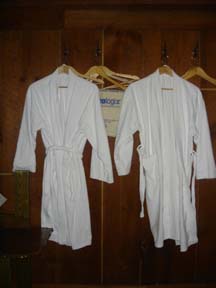 The staff provides terry cloth robes for you to wear down the hall, but I just slept in comfortable pants and a t-shirt and socks and strolled down the hall at night just like that. The bathroom we used had 4 toilet stalls and a multiple sink vanity. It had three private shower stalls, with an area for dressing, an area for showering and a place to throw your wet linens when you finished. It wasn't public at all.
The reason it was kind of neat is that it forced me out into the hallway when no one else was around and so of course I wandered out to the balcony overlooking the enormous lobby. With no other tourist in the lobby at all, it was even more awe inspiring – it seemed like my own private palace!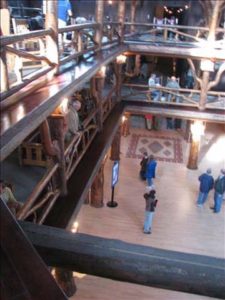 In 2003 we stayed at the Inn for one night but were in one of the newer wings, connected to the Old House but not having the unique atmosphere of the Old House. They do however have private baths!
There is no television in the Inn.
Cell phones may not work.Our group had ATT (which didn't work in this area) and Verizon (which did). Be aware that Old Faithful and Canyon and Mammoth are pretty much the only areas any cell coverage is available!
Special features.
Room 229 is supposedly where Robert Reamer stayed when he was at the Inn. It is in the Old House, on the side of Old Faithful where you enter. It has dormer windows on two sides which open and one set faces Old Faithful geyser – so you can see it from your room. When I booked, the agent suggested requesting this room because we were celebrating many occasions (delayed anniversary, several birthdays, graduations and a recent wedding).
Our son and wife (our newest daughter-in-law in law) stayed in this room, which was larger than ours and it also had two queen beds. It faces right out to the lobby, on the front of the second story balcony, which is kind of neat, but if you want a shower during the day, you risk being seen in your go-to-shower clothing by lobby visitors. We prolonged our celebration night at one of the indoor picnic tables in the balcony right outside their room!
Next to hanging out in the lobby and balconies, my very favorite place was the second story deck. One night we had a picnic dinner with our oldest son, his wife and our two grandkids. We brought our own bottle of champagne and drank it right there! The next night, we retired to the deck after having our celebration dinner in the dining room. We watched the geyser erupt, opened presents, took lots of pictures, and again drank our own (another bottle) of champagne.
Plan your stay.
If you want to stay at the Inn, you must plan ahead. The rooms fill up fast – usually a year prior. Reservations  open the first of May and get sucked up quickly (my theory is that tour group bookings get most of them – which just seems wrong to me). I was mis-informed as to when reservations would open and called the day before Memorial day. While I was able to get rooms, I was not able to get a room with two queens and a private bath (pretty mu required with little kids) which made it harder to get together – since their cell phone service didn't work there.
When you reserve, the first night stay (at each lodge if you stay at different places) is charged to your credit card right away, but you can cancel for a full refund (I think you have to cancel 2 weeks prior to get all your money back though).
Even when you have a reservation, the check in desk gets really busy at certain times of the day. We arrived at 3 PM (rooms are available at 4 PM) and had to wait in line about 20 minutes to check in. Also, I made the reservation for all three rooms our families used and I had to personally be there to check in for them as they verified that I had the credit card that had reserved the room.
Reserve dinner when you reserve your room if you want to eat in the dining room. Otherwise you will miss out entirely or be eating at 11PM!
Take advantage of ranger tours – they are free and offered frequently during the summer months.
Dress warmly, but be ready to shed. We were there June 10 – 15 and it snowed! Then it warmed up to the mid 60's.
Reserve other special activities ahead of time as well – you won't pay until you show up. We took a historic yellow bus tour of Lake Butte at sunset and we went on the Western Cookout in a covered wagon – from the Roosevelt corrals. We stayed at Roosevelt that night in a cabin because the roads on that side of the park are very 'scenic' – meaning mountainous, curvy and lacking guardrails! Roosevelt cabins are the cheapest lodging in the park and also book up fast.
As you can probably tell, I love this Old Inn and am immensely pleased that it has survived both the 1959 earthquake and the 1988 wild fires and has been preserved so that my grandchildren may well take their children to stay in it as well. What a legacy!
Have you stayed at the Inn? What was your favorite part?