The Walton Wealth
According to the Forbes 400 Richest American list, four of the top ten richest people in America in 2009 were descendents of Sam and Helen Walton, founders of WalMart.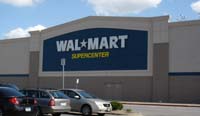 First on the list were Microsoft founder, Bill Gates with 50 billion, Berkshire-Hathaway owner, Warren Buffet with 40 billion and and Oracle founder Lawrence Ellison with 27 billion, but then came 4 of Sam and Helen Walton's children.
Together they had (in 2009 per Forbes 400 Richest Americans list online) 83,400 billion:
25,500 billion Christy – John's Thomas Walton's widow
19,600 billion Jim Carr Walton
19,300 billion Alice
19,000 billion Samuel Robson Walton
The story of Sam and Helen Walton is fascinating on its own (told in In Sam We Trust, The Untold Story of Sam Walton and Walmart, the World's Most Powerful Retailer by Bob Ortega published by Random House), but of additional interest is the role played by Helen and her parents.
Helen was the daughter of Leland Standford (L.S) Robson and Hazel Corrine Carr. She had four brothers. L.S. put himself through law school peddling pots, pans and bibles. He established a successful practice. During the depression years, he was able to buy an 18,500 acre ranch and also had interests in coal mining, farming and other industries. Helen was raised in a comfortable environment. She earned a college degree in financing during an era when women typically did not go to college. She worked in her father's law office and did the books for the ranch prior to her marriage to Sam. During this time, her parents set up a family partnership which held the family assets. The children were made equal partners and taught to handle money, one method being to establish checking accounts for each of them.
Helen's family – particularly L.S. – inserted themselves into the financial lives of Helen and Sam. When Sam wanted to set up a Ben Franklin franchise, L.S. loaned him money to go along with what Sam and Helen were able to supply. Helen had balked at a partnership with Sam's brother Bud to get started – noting that her family had seen partnerships run into difficulties – which is why they wanted to get established on their own.
When his first store had to be sold, due to a mistake Sam made in agreeing to a lease without a renewal clause, L.S. was concerned enough that he assisted Sam with locating and procuring his next store location.
Before Sam and Helen accrued many stores, L.S. Is said to have pushed them to set up their own family partnership (now known as Walton Enterprises).
The partnership was established when the 4 Walton children were very young – before the family fortune was amassed. Each child owned 20% of the partnership with Sam and Helen together owning 20%.
Sam and Helen raised their children to be their partners, teaching them at young ages to participate in family decision making. Once example cited was that of allowing them to help decide if the family should take a rather costly fishing trip as a vacation (they did end up going).
After the children grew up and moved away, Sam would get the family together a few times a year to discuss the family enterprise and make joint decisions. They got together at places like the Ritz-Carleton in Naples, FL or The Del Coronado in San Diego, CA while Sam was alive, and in the living room of the family home in Bentonville, Arkansas after his death in 1992.
According to a Fortune article ("The Waltons: Inside America's Richest Family" ANDY SERWER / Fortune v.150, n.10, 15nov04):
These meetings are central to the Walton family. Topics are chosen in advance, and Wal-Mart executives or advisors from Walton Enterprises or the family foundations are invited to give presentations. The subject might be philanthropy, merchandising, or the company's expansion overseas. "The meetings glue us together," Rob Walton says. "We want the next generation to be actively involved and to be good stewards of this company."
The partnership setup allowed Sam and Helen to not only train their children to participate in family decision making, but also allowed the growth, accumulation and appreciation of the assets in the partnership to pass to the children free of gift tax or inheritance tax consequences. In addition it set a pattern that the children seem to be following with their own offspring.
According to an Associate Press article on Thursday April 19, 2007, the family remaining at Helen's death includes 3 children (John Taylor having been killed in 2005 in a plane accident), 8 grand-children and 4 great grand-children. If Sam and Helen's children can continue the involvement of multiple generations of the family in the decision making for the partnership, they will be on their way to beating the 'shirtsleeves to shirtsleeves' mentality.
Sources include:
a) "The Waltons: Inside America's Richest Family" ANDY SERWER / Fortune v.150, n.10, 15nov04
b) myviplife.com www.myviplife.com/lifestories/vipbusiness/Sam_Walton_bi.php?c=10
c) Sam Walton, Great From the Start by Richard S. Tedlow Harper Business, 2001
d) www.paulylaw.com "What Can We Learn From Sam and Helen Walton" by Larry W. Gibbs